I'm so excited that I can finally tell you: I'm a 21 Secrets Teacher!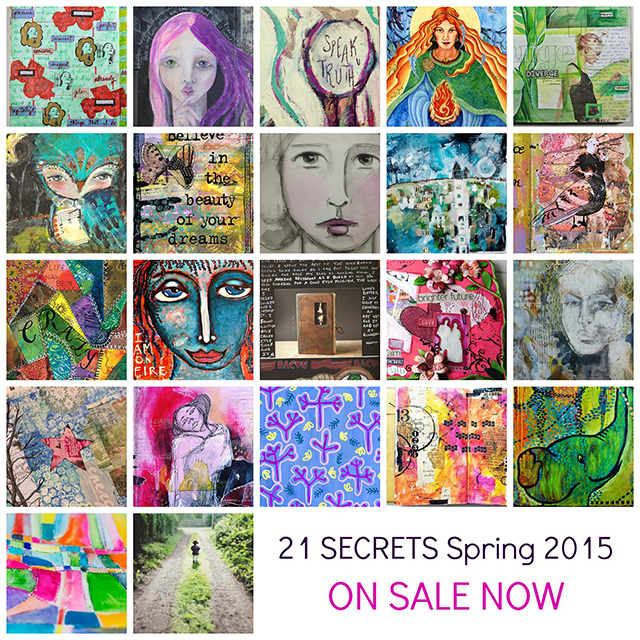 Can you spot my pattern in the image above? Hint: it has a blue background!
If you've never heard of 21 Secrets, to sum it up, I'll be one of 21 teachers sharing an art journaling "secret" in a big online group e-course. My part of the course will be a workshop called, "Passion for Patterns". If you want to find out more, check out the details on the 21 Secrets website.
Registration starts today, although you'll have to wait until April 1, 2015 to take Passion for Patterns, since that's when the class actually starts.
If you think you might be interested in signing up for the course, I do want to let you know that during the pre-sale that starts today, they have some great deals going on. The first 150 people to sign up get the class for just $69 which is almost $30 off! The next 150 can get the class for $79, and the next $89, after which the full price is available at $98 which is still a steal at less than $5 per individual workshop!
I've been wanting to teach an online class for a while now, and I'm so happy to be able to make my debut alongside a wonderful group of fellow creatives.
I would love for you to check out the 21 Secrets workshop page and tell me what you think. My workshop is the very first one in the list (thanks to my name starting with A!), so it will be easy to find the description for Passion for Patterns. I have a lot of really fun plans for my class, and I'd be totally thrilled if you decide to take the workshops and have a 21 Secrets journey with me!
One more thing I want to be upfront about is that all the links that I'm sharing that go to the 21 Secrets page are affiliate links. If you use them when signing up, I really appreciate it since I get a percentage of the sale, which is how I get paid for my workshop! If you plan to register, I'd be very happy if you chose to use my link. 🙂